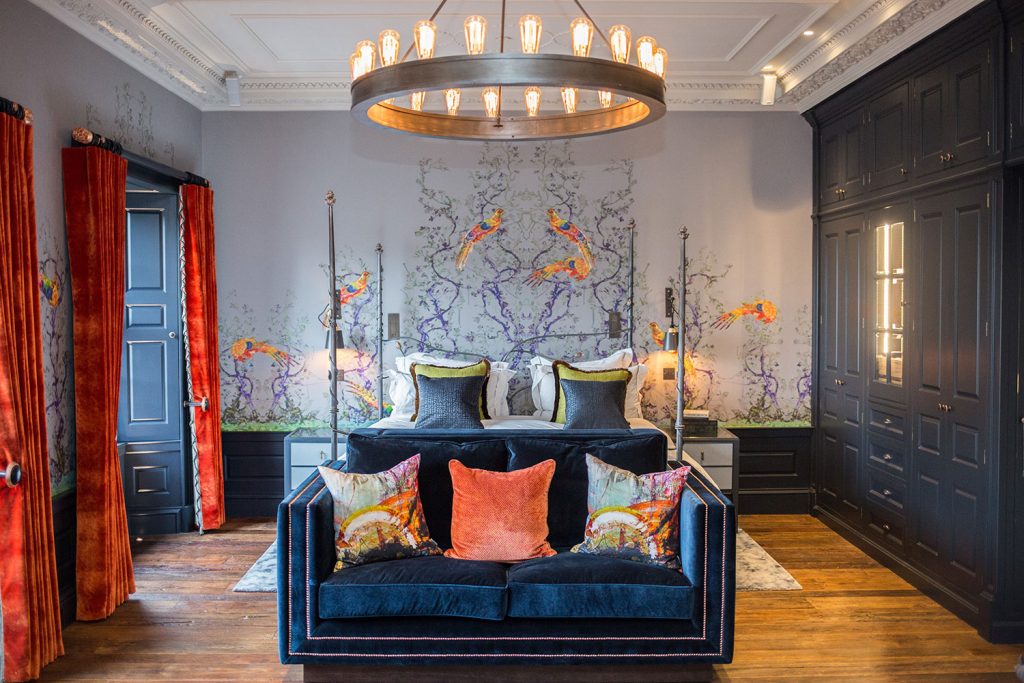 Drama Class
Darker colours in decoration take me back to my roots in interior design. Recent years have seen a vogue for a sleeker look with varying shades of pale grey dominating – and there certainly remains a place for this, but my heart has always been in bolder, warmer schemes.
You can engage with stronger colour palettes either by immersing yourself in a wrap-around of rich colours to create a luxurious cocoon, or you can mix a strong main colour with a second lighter colour, or pops of brighter colours, elsewhere in the scheme.
Approach your project by creating a strong backdrop to your room – try painting the walls with one of the fabulous paint colours currently available. Two of my current favourites are Ink from Zoffany (a rich, warm grey) and Squid Ink from Paint & Paper Library (a charcoal-blue – conjuring up a squirt of ink from a beautiful old fountain pen). A bedroom with Squid Ink walls and matching rich velvet curtains would create the perfect canvas for a selection of jewel coloured accessories – perhaps a bold red geometric headboard with co-ordinating cushions and throw. The dark walls really encourage the brighter colours to sing and it is no coincidence that some of the more opulent galleries paint their walls in deep dark colours that allow the brilliance of their art to hold centre stage – this creates a real sense of drama in a space.
Alternatively, pick out the woodwork in a strong colour. It is hard to be enthusiastic about white woodwork which can drain a room of warmth and personality and I am a huge fan of dark woodwork in any room – for example charcoal looks fabulous and accentuates architectural features. But you can choose any colour by selecting a paint a few shades darker than the tone of your walls or the background colour of your wallpaper. To totally transform your room, go the whole hog and also take the wall colour up and over the ceiling.
If this sounds a little overwhelming then take the plunge with deep-coloured walls but perhaps lighten the scheme with paler woodwork (a soft white or one of the 95 graduated shades of Paint & Paper Libraries wonderful Architectural Colours). Combined with a light, painted floor, white ceramic lamps and shot through with some bright cushions and throws for oomph you will still have created a warm, characterful room.
If your preference is for a more neutral scheme, that fabulous ink shade I mentioned will work just as well with natural fabrics such as raw linens, tan leathers, rattan and sisal giving you a more urban but no less rich environment.